Now Sorted – How it Began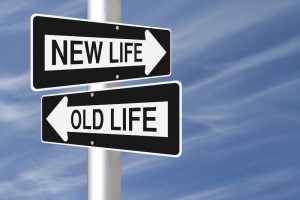 Two men, in their mid-forties, are chatting over a business breakfast. Suddenly, one excuses himself and goes to the bathroom. He is sweating slightly, feels uncomfortable, splashes some cold water on his face. He returns to the table, apologises to his colleague and suggests they defer their discussion to another day. With that, he pays the bill, tips the waiter and proceeds to his car. He wonders what just happened?  Within an hour he learns he'd undergone a heart attack – an event that changed his life forever.
Eddie Lees was quickly hospitalised. After the operation, as he was 'coming to', the effects of the anaesthetic were fading, and he began to realise the seriousness of his situation.
He was an ex-Marine, ran his own consultancy business, and had always been quite fit. He was happily married and had two teenage sons. Nothing was out of the ordinary. Yet here he was, in hospital, happy to be alive though grimly aware of the position his family was now in.
Throughout their marriage, Eddie and his wife shared responsibilities evenly: Anne was the homemaker and Eddie took responsibility for all the necessaries outside the home. He ran his advisory business, took care of the finances, did the books, and paid the taxes. In addition, he had organised the Wills and Powers of Attorney – both drawn up and signed.
While in hospital, one powerful thought overshadowed the rest: while he knew where everything was, Anne 'didn't have a clue' – he'd never got around to explaining where everything important was … and how it all tied together. Interviewed later, he sheepishly admitted he'd 'never found the time'.
The nagging thought was, if he didn't make it out of hospital, how would Anne dispose of the business? How would she claim on life insurance policies – how would she even know where they were? And how would she cope with all the financial stuff – bank accounts, pension plan, leases, guarantees, assets/liabilities?
Fortunately, Eddie made it back home and immediately set about resolving the issues. But he found that after fixing one item, another one always appeared. He asked friends in the legal, accounting and financial planning professions for opinions and input into what was then a primitive form of software.
A powerful outcome was colleagues asking to sign up once everything was ready in order to gain benefits not only for their families but also for their own clients. Eventually, the service emerged with a simple name: Now Sorted, because these two words sum up what it's is all about – 'Now' indicates instant access to everything important (and encourages procrastinators to act); 'Sorted' empowers clients to quickly – and easily – sort themselves out.
Over the years, Now Sorted has built a great team of professionals who have contributed major changes to make the service what it is today – a super secure, online repository for key personal information and documents.
We have but one objective: to make this the best service of its type in the world.
Discover more at www.nowsorted.com or contact us at hello@nowsorted.com
https://www.nowsorted.com/wp-content/uploads/2018/03/Beginning-ex-CanStock.jpg
533
800
Eddie Lees
https://www.nowsorted.com/wp-content/uploads/2022/03/New-Logos-02-300x140.jpg
Eddie Lees
2018-03-27 05:09:47
2019-02-19 15:46:43
Now Sorted – How it Began